Vivica A. Fox Collection - Deep Lace Front wig
TONETTA
http://www.hairbird.com/images/detailed/9/tonetta01.jpg
<table class="product-main"> <tbody> <tr> <td> <img alt="VIVICA A.FOX Deep Lace Front wig TONETTA" src="images/product/Vivica/Syn Deep Lace/Tonetta/tonetta01.jpg" style="width: 475px; height: 713px;" /></td> <td> <p> <img alt="Vivica fox wigs Deep lace front wigs" src="images/product/Vivica/Syn Deep Lace/deeplace-bg.jpg" style="width: 390px; height: 100px;" /></p> <p> Vivica Fox Synthetic Deep Lace Front Wig</p> <p> TONETTA</p> <p> &nbsp;</p> <p> This short and classy look is great for corporate divas! Big, Bouncy curls not only pump a ton of volume in this gorgeous hair, but they also bring a lot of freshness. This curly hairstyle makes the face shape appear longer rather than wider.</p> <p> Product code: VFSD-TONETTA</p> <p> Manufacturer: Amekor Industries</p> <p> Product type: Lace Front Wig</p> <p> Length: 14 inch</p> <p> Material: SYNTHETIC</p> <p> Color Shown:&nbsp;FS4/27</p> <p class="upc">UPC: 781811372264, 781811372271, 781811372288, 781811372295, 781811372318, 781811372349, 781811400691, 781811372356</p> </td> </tr> <tr> <td> <img alt="VIVICA A.FOX Deep Lace Front wig TONETTA" src="images/product/Vivica/Syn Deep Lace/Tonetta/tonetta02.jpg" style="width: 475px; height: 713px;" /></td> <td> <img alt="VIVICA A. FOX Deep Lace Front wig TONETTA" src="images/product/Vivica/Syn Deep Lace/Tonetta/tonetta03.jpg" style="width: 475px; height: 713px;" /></td> </tr> </tbody> </table> <div class="slogan-vf"> <p> 14 inch body curl spiral ends with feather swept sides</p> <p> From spring to winter</p> <p> Tonetta is your beauty secret!</p> </div> <div class="cap-construction"> Deeep Lace Front Collection - Cap construction</div> <table class="cap-const-table"> <tbody> <tr> <td class="vivica-cap-bg1"> <table> <tbody> <tr> <td> &nbsp;</td> <td> <p> Deepest!</p> <p> More than Double: deeper and wider than other brands. 2.5 inch hand tied lace part gives flexible movement for different arrangements and variability in styling.</p> </td> </tr> </tbody> </table> </td> <td class="vivica-cap-bg2"> <table> <tbody> <tr> <td> &nbsp;</td> <td> <p> One by one strand hand tied technique!</p> <p> Hand tied area on the lace front gives a most natural look because we use one strand by one strand technique on the lace front.</p> </td> </tr> </tbody> </table> </td> </tr> <tr> <td class="vivica-cap-bg3"> <table> <tbody> <tr> <td> &nbsp;</td> <td> <p> 100% Fully hand stitched from ear to ear!</p> <p> 100% full hand stitched lace front from ear to ear allows versatility of hair styles, like pull back and updo styles.</p> </td> </tr> </tbody> </table> </td> <td class="vivica-cap-bg4"> <table> <tbody> <tr> <td> &nbsp;</td> <td> <p> Pure Stretch Cap!</p> <p> Stretches throughout the perimeter. Super thin and resilent dual elastic sides. All open-stretch cap construction.</p> </td> </tr> </tbody> </table> </td> </tr> </tbody> </table> <table class="str-cap"> <tbody> <tr> <td> <table class="inst-apply"> <tbody> <tr> <td class="pure-td01"> PURE <span class="pink">STRETCH</span> CAP&reg;</td> <td class="pure-td02"> <p> <span class="pink">ALL DAY LONG COMFORT</span><br /> Feel new freedom with the secure and precise fit of the Pure Stretch Cap wig.</p> </td> </tr> <tr> <td> <span class="pure-cap01">PURE STRETCH CAP</span></td> <td> <span class="pure-cap02">CONVENTIONAL CAP</span></td> </tr> <tr> <td colspan="2"> <img alt="Pure cap construction" src="images/product/Vivica/purecap02.png" style="width: 400px; height: 143px;" /></td> </tr> <tr> <td class="font-size-10" colspan="2"> Selected products may not stretch in the front area to maintain cap structure.</td> </tr> </tbody> </table> </td> <td class="slogan02-vf"> <p> Deeep LACE FRONT</p> <p> MORE THAN DOUBLE</p> <p> DEEPER AND WIDER</p> <p> 100% HAND-STITCHED</p> <div class="font-georgia"> <p> Naturally Embedded Baby-Hairs</p> <p> No one will know you&#39;re</p> <p> wearing a wig-even you!</p> </div> </td> </tr> </tbody> </table> <div class="product-inside"> PRODUCT INSIDE</div> <hr class="hr-detail" /> <table align="center" width="790"> <tbody> <tr> <td width="50%"> <img alt="The package of Vivica fox wigs." src="images/product/Vivica/cap detail/deep lace/box.jpg" style="width: 163px; height: 140px;" /></td> <td> <table class="top-tips"> <tbody> <tr> <td colspan="2"> VIVICA&#39;S TOP TIPS</td> </tr> <tr> <td> <p> 1.Don&#39;t stop caring for your own hair just because you&#39;re wearing a wig. Be sure to maintain the health of your hair by shampooing and conditioning.</p> <p> 2.Always wear a wig cap to prevent breakage and damage. The cap also</p> </td> <td> <p> helps with wig fit and stability.</p> <p> 3.Be sure to moisten/grease your scalp beneath the wig cap daily.</p> <p> 4.If you own hair is longer, definitely cornrow it beneath the wig cap.</p> </td> </tr> </tbody> </table> </td> </tr> </tbody> </table> <table class="cap-detail"> <tbody> <tr> <td> <img alt="Deeep lace front collection's cap detail." src="images/product/Vivica/cap detail/deep lace/captext.png" style="width: 250px; height: 250px;" /></td> <td> <img alt="" src="images/product/Vivica/cap detail/deep lace/front.jpg" style="width: 250px; height: 250px;" /></td> <td> <img alt="" src="images/product/Vivica/cap detail/deep lace/side.jpg" style="width: 250px; height: 250px;" /></td> </tr> <tr> <td> &nbsp;</td> <td> Deeper &amp;&nbsp;Wider Hand Tied&nbsp;Lace&nbsp;Front</td> <td> <p> Ear to Ear&nbsp;Front Lace</p> </td> </tr> <tr> <td> <img alt="" src="images/product/Vivica/cap detail/deep lace/secure-comb.jpg" style="width: 250px; height: 250px;" /></td> <td> <img alt="" src="images/product/Vivica/cap detail/deep lace/rear.jpg" style="width: 250px; height: 250px;" /></td> <td> <img alt="" src="images/product/Vivica/cap detail/deep lace/adjust-band.jpg" style="width: 250px; height: 250px;" /></td> </tr> <tr> <td> 4 Combs for Secure Hold</td> <td> Bio-Cap Technology</td> <td> 2 Adjustable&nbsp;Bands</td> </tr> <tr> <td class="cap-size" colspan="3"> <img alt="Cap size chart. Type of cap, circumference, ear to ear, front to back." src="images/product/Vivica/cap detail/deep lace/cap-size.jpg" style="width: 700px; height: 172px;" /> <p> Cap measurements are averages and may vary slightly depending on individual styles.<br /> *PS Cap Wigs include lace front wigs and mono lace wigs.<br /> **Lace front wigs&#39; front-back is from hairline to nape.</p> </td> </tr> </tbody> </table> <div class="rev-youtube"> <span class="rev-title">*YOUTUBE</span> <hr /> <div class="rev-cont"> <img class="float-right" src="images/video/youtube.png" /><span class="rev-sub">Video Review</span> <div class="rev-youtube-cont"> <a href="http://www.youtube.com/embed/H8gzEGm3jeA" onclick="window.open(this.href, 'test', 'resizable=no,status=no,location=no,toolbar=no,menubar=no,fullscreen=no,scrollbars=no,dependent=no,width=560,left=100,height=315,top=100'); return false;" target="_blank"><img alt="Vivica fox wig fergie on youtube" src="images/video/vivica/youtube-tonetta01.jpg" /></a>Vivica fox Tonetta</div> </div> </div>
http://www.hairbird.com/vivica-a.-fox-deep-lace-front-wig-tonetta.html
31.99
Vivica Fox Synthetic Deep Lace Front Wig

TONETTA

This short and classy look is great for corporate divas! Big, Bouncy curls not only pump a ton of volume in this gorgeous hair, but they also bring a lot of freshness. This curly hairstyle makes the face shape appear longer rather than wider.

Product code: VFSD-TONETTA

Manufacturer: Amekor Industries

Product type: Lace Front Wig

Length: 14 inch

Material: SYNTHETIC

Color Shown: FS4/27

UPC: 781811372264, 781811372271, 781811372288, 781811372295, 781811372318, 781811372349, 781811400691, 781811372356
14 inch body curl spiral ends with feather swept sides
From spring to winter
Tonetta is your beauty secret!
Deeep Lace Front Collection - Cap construction
Deepest!

More than Double: deeper and wider than other brands. 2.5 inch hand tied lace part gives flexible movement for different arrangements and variability in styling.

One by one strand hand tied technique!

Hand tied area on the lace front gives a most natural look because we use one strand by one strand technique on the lace front.

100% Fully hand stitched from ear to ear!

100% full hand stitched lace front from ear to ear allows versatility of hair styles, like pull back and updo styles.

Pure Stretch Cap!

Stretches throughout the perimeter. Super thin and resilent dual elastic sides. All open-stretch cap construction.
PURE

STRETCH

CAP®

ALL DAY LONG COMFORT
Feel new freedom with the secure and precise fit of the Pure Stretch Cap wig.

PURE STRETCH CAP

CONVENTIONAL CAP

Selected products may not stretch in the front area to maintain cap structure.

Deeep LACE FRONT

MORE THAN DOUBLE

DEEPER AND WIDER

100% HAND-STITCHED

Naturally Embedded Baby-Hairs

No one will know you're

wearing a wig-even you!
PRODUCT INSIDE
---
VIVICA'S TOP TIPS

1.Don't stop caring for your own hair just because you're wearing a wig. Be sure to maintain the health of your hair by shampooing and conditioning.

2.Always wear a wig cap to prevent breakage and damage. The cap also

helps with wig fit and stability.

3.Be sure to moisten/grease your scalp beneath the wig cap daily.

4.If you own hair is longer, definitely cornrow it beneath the wig cap.
Deeper & Wider Hand Tied Lace Front

Ear to Ear Front Lace

4 Combs for Secure Hold
Bio-Cap Technology
2 Adjustable Bands

Cap measurements are averages and may vary slightly depending on individual styles.
*PS Cap Wigs include lace front wigs and mono lace wigs.
**Lace front wigs' front-back is from hairline to nape.
1
1B
2
4
218
JET BLACK
OFF BLACK
DARK BROWN
MEDIUM DARK BROWN
FS1B/27
FS1B/30
FS1B/33
FS4/27
FS4/30
OFF BLACK + LIGHT AUBURN
OFF BLACK + MEDIUM AUBURN
OFF BLACK + DARK AUBURN
MEDIUM DARK BROWN + LIGHT AUBURN
MEDIUM DARK BROWN + MEDIUM AUBURN
F4/27/30
FS2730
FS3027
F730
F8/3/240
FS27/613
P1B/27
P1B/30
P1B/33
P4/27/30
P4/30/33
OFF BLACK + LIGHT AUBURN
OFF BLACK + MEDIUM AUBURN
OFF BLACK + DARK AUBURN
MEDIUM DARK BROWN + LIGHT AUBURN + MEDIUM AUBURN
MEDIUM DARK BROWN + MEDIUM AUBURN + DARK AUBURN
P4/27
P4/30
P2216
P2217
P27/30/33
MEDIUM DARK BROWN + LIGHT AUBURN
MEDIUM DARK BROWN + MEDIUM AUBURN
PLATINUM BLONDE + LIGHT AUBURN
PLATINUM BLONDE + MEDIUM GOLDEN BROWN + ORANGE
LIGHT AUBURN + MEDIUM AUBURN + DARK AUBURN
TP613/27
DX2216
DX3147
DX3427
GM234
PLATINUM BLONDE + LIGHT AUBURN
6 + 27 + 30 + 144
TOP(Light) 613, 144
MIDDLE(Medium) 27, 144
BOTTOM(Dark) 4, 30, 33
LX2733
1BT2216
GD230
GD3076
GD4076
3T34
3T44
3T51
280
34
Black / 10% Gray
Black / 25% Gray
44
51
GM1349
GM1397
RB35
Black / 50% Gray
Black / 75% Gray
612
613
0423
3505
4327
PLATINUM BLONDE
3T332
T332
TT27
BT730/1B
UD30
99J
DARK BURGUNDY
※FS (FROSTED) - 80% base color frosted with 20% highlight color
※P (PIANO) - Chunky, side - by - side streaks of contrasting colors
※TP (TIPPED) - Dark base tipped with highlighted colored ends
※T (TIPPED) - Roots are made with base color, tips are made with 2nd color
"Put the spotlight on you!"
During the fall of 2009 a small, but dedicated team of stylists and hair industry insiders joined with Vivica A. Fox to build a top level brand of wigs, extensions, and related products that would be unlike anything currently available. From top-to-bottom, the team worked to develop a catalog of products and looks that are fitting of Vivica's superstar style.
In late 2010 Vivica Fox took her hair collection to the next level in her collaboration with Amekor Industries, a company with over 30 years experience manufacturing and distributing innovative, stylish, and high quality wigs and extensions. Together, Vivica and Amekor are changing the game when it comes to the hair industry.
Today, as the brand has been on the market for less than three years, the team is working overtime to get great product out to as many top quality, reputable dealers as possible. Revolutionizing the industry, the Vivica A. Fox Hair Collection was the first to establish an Authorized Dealership system, which is quickly being copied around the industry.
While so many of Vivica Fox products are brand new, Vivica Collection is already looking to the future to make sure that Vivica's hair line makes you look great now and for years to come.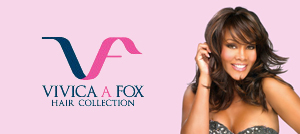 "Become a Guest Blogger for the Vivica A. Fox Hair Collection!!!"
For more detail click here.
Is your color out of stock?
We will notify you when the color is back in stock.
| | |
| --- | --- |
| | The actual colors, curls and length may be little different from the picture as the different monitor resolution settings and the different handicraftsman. |